Comic-A-Day: Candy In Action / I'll Kill You
The very latest. I started a few more layouts of fairly innocuous scenes from my day-to-day, but it got pretty boring. One extremely uninspiring day, I decided to light the fire by trying to adapt the lyrics from "
I'll Kill You
" (Postal feat.
Matthue Roth
), part of the
free online soundtrack
to Mr. Roth's awesome novel
Candy In Action
.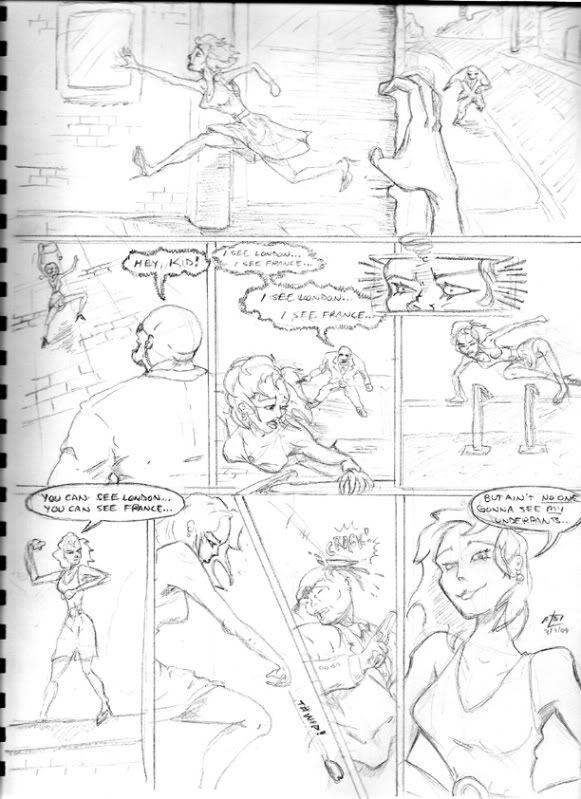 Posted with permission of Matthue Roth (what a nice guy!). Two bits now:
1) If you haven't read the book yet, or heard the song - take
two seconds
to leave me a comment about the sketch first, then go get the goods! I want to know if the narrative above makes any sense without having heard the song.
2) Check out
www.matthue.com
,
www.candyinaction.com
, buy the book, read it! It's fun, it's original, and I have to hand it to Matthue for the way he's marketed it with extras on the book's site. It's like the special features on a DVD, except, you know, fun and killer, instead of stale and expected. I also owe him props for the signed copy (he just has cool handwriting) I got at his open-mic reading at the
92 Y Tribeca
. Oh yeah, and for giving Ms. Smash such a smashing introduction before she took the mic!
Okay, did you leave a comment? Good... now go buy Matthue's stuff. It's okay, just go. I won't mind. I promise you, when I actually have something to sell, I'll make sure you buy it. But we can see other creators. I'm not the jealous type.
Labels: Comic-A-Day, Matthue Roth