Some rough character studies
Nothing too impressive here, but I'm preparing to embark on a couple more "Comic-A-Day" entries, and some portfolio work thanks to twittered suggestions from Joe Quesada. I'm no prep-work impresario, but I like to do some pre-lims (including some expressive variety) for characters, since I fall easily into the cookie-cutter rut when working from scratch.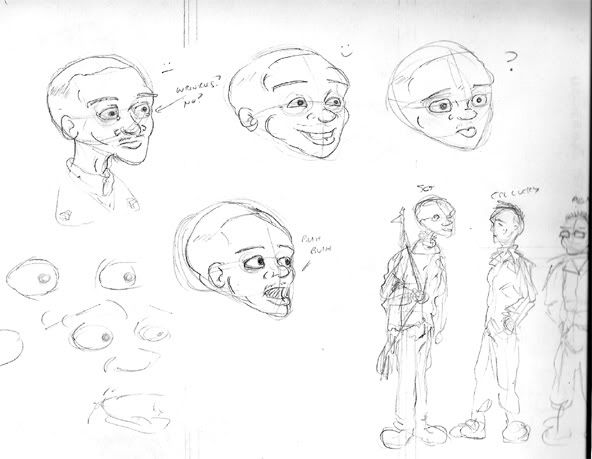 This one's for the Comic-A-Day. I haven't made a habit of doing studies for these, since they're meant to be bloggy (spontaneous), but the long-lost acquaintance this character is based on was so bizarre, I had to make sure I could get his look down.
I promise not to go fan-boy on you (though for the life of me, I don't know who I'm referring to when I say "you"). This right here is an awesome character, and if I'm to begin trying to do your standard trudge-about-the-con portfolio, he's my go-to guy. Admittedly, I love the designs from the Morrison/Quitely era of "New X-Men," so there goes the costume. Not sure, but I think the face was based unintentionally on the look from the PS2 "X2: Wolverine" game, with the idea of keeping him attractively ugly. Remember back in the day, when he was straight-up
fugly
?
Wolverine (c) 2009 Marvel Characters, Inc.
Last study for now. A bit less sure of myself here, but the Wolvie portfolio piece won't work without a convincing supporting cast. Here's my first shot at a Marine who's going to get a little too drunk and disorderly in a Manhattan bar, where all the Canuck wants to do is relax!
More to come (and with less of a wait this time).